Silstar Participated in the Third Tongcheng Plastic Packaging Machinery Fair in October
Views: 306 Author: Site Editor Publish Time: 2019-10-28 Origin: Site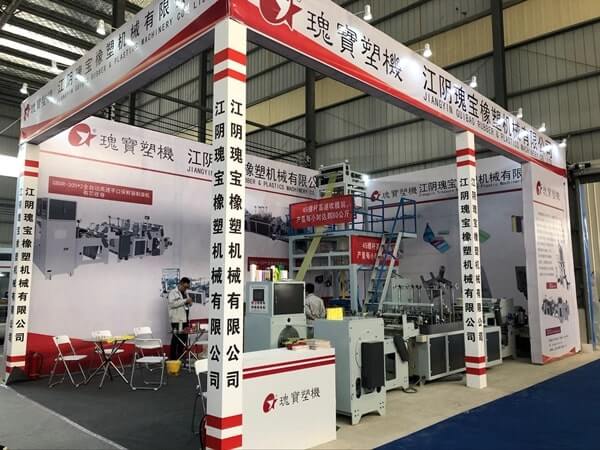 Tongcheng City in Anhui probince is the hometown of plastics in China. Silstar attended the Third Tongcheng Plastic Packaging Machinery Fair in October in Tongcheng City. This time, Silstar displayed new product- eight roll vest bag making machine and high-speed screw film blowing machine. Before the exhibition, it was learned through market research that domestic consumers have always had a large demand for eight roll vest bags which have become popular in the past two years.
The customers who come to the booth for consultation are in a constant stream. On the first day of the exhibition, there are customers who have the intention to buy the exhibition sample machine!
A few questions from customers about the two displayed sample machines:
Q: Does the production of this 45-screw blown film machine reach 80 kg per hour?
A: It is indeed possible to achieve this output and it is still a conservative estimate. When the frequency of the blown film machine was set to 15 Hz per second, the film blowing time was 1 hour and the weight of the film was 33 kg (film width 50 cm, film thickness 0.009 mm). If the host frequency is turned to 36 Hz per second, the output can be 80 kg per hour.
Q: Why can your company's blown film machine achieve such high output meanwhile the surface of the film is bright and clean, the film thickness is uniform, and the flatness is high?
A: 1. We adopted high-speed screw with a length to diameter ratio of 30:1, rotating at a speed of 100 meters per minute or more per minute.
2. Adopt Taiwan die to improve the stability of blown film.
3. High-quality three-out wind ring, cold cutting speed, bubble stability is greatly improved.
4. Silent fan to effectively reduce machine noise.
5. The servo motor is controlled on the traction frame. Unlike the conventional cycloidal needle motor control, the film thickness is uneven and the quality control is unstable.
Q: What are the characteristics of this vest garbage bag making machine?
A: This bag making machine is the newest eight roll vest bag making machine in 2019. The machine is highly automated, fully automatic winding. It can be used both in flat pocket production and vest bag production. Its highest stable output reaches 300 lines per minute. This model combines all the high-end configurations and latest functions on the market, including the main unit + discharge + winding and one-button speed control, the left and right winding independent flip, the electric head discharging, the discharging double storage rack, the discharging Winding additional motor traction, breaking automatic laminator, adding correction before winding, all rubber rollers are equipped with protective cover.
If you want to know more about the details of the high-speed blown film machineand the eight-fold continuous roll bag making machine, please contact us!