Silstar Machinery in Chinaplas 2019
Views: 273 Author: Site Editor Publish Time: 2019-06-25 Origin: Site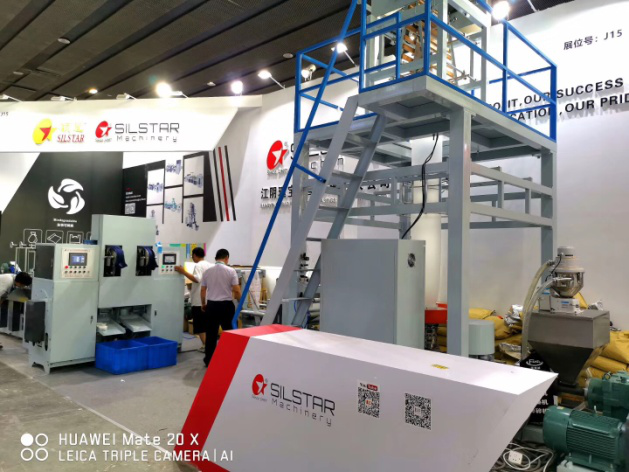 This week Silstar Machinery's sales team is participating in Chinaplas 2019 in Guangzhou from May 21 ~ 24.
China International Exhibition on Plastics and Rubber Industries (CHINAPLAS), the world's leading plastics and rubber trade fair, will take place at China Import and Export Fair Pazhou Complex, Guangzhou during 21st - 24th May 2019.
In Chinaplas 2019 Silstar main pushes bio blown film machine which is one of our best-selling products. During this trade show, so many customers show their interests in the whole production line for Bio plastic bags and ask more about the details.
Until now in the international market, Silstar Machinery's production line has coverd variety types of blown film machine,bag making machines, while bag on roll machines are the most advanced and competitive machines among of these.
Besides bio blown film machine, we also offers bio printint mahcine, bio T-shirt bag makiing machine, automatic labeling machine and etc.
In the fair, great amount of customers showed interests in these bio plastic machines.
Frequently questions they asked:
Q: What is the material of bio plastic?
A: PLA and PBAT more than 90%, rest 10% are corn starch and others. Truely 100% compstable after 6 months buried in the soil.
Q: Can these machines make both PE and Bio?
A: For T-shirt bag machine, yes. But for blown film machine, it need to change die head and air rings.
Q: Can you tell more details about the labeling mahcine?
A: It can help plastic maker use less labor. It's optional machine which can adapt to most of our on roll bag machines. It brush water to the paper label backside (backside with hydrosal) to make it sticky.

If you are the plastic bag maker who are looking for suatible rolling bag machines, we are able to provide you the first-rate machines and most professional advises during the production. Feel free to contact us for more details about bio machine and bio material.